At Sia Oriental Rug and Service, we follow the age-old traditions of oriental rug cleaning that will ensure your investment is protected.  We follow a tried and true 5 step method to cleaning:
Step 1 Pre-Inspection
An Oriental Rug is a fine piece of art that is unique, which is what gives it the beautiful look and value.  However, this also means that the construction of each rug is different – starting with the dyes.  A pre-inspection is done to make sure the rug will not be damaged in the cleaning process by causing the dyes to run and blend into the other colors.  A pre-inspection is also done to identify any damage to the rug that could be exacerbated by the cleaning process.  Our experts have been inspecting rugs for over 25 years.
Step 2 Dust Removal/Submersion Bath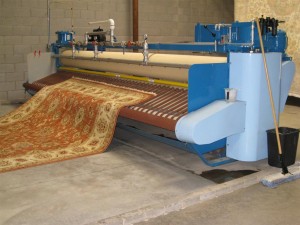 Dust removal is the 2nd step in our cleaning process.  An accumulation of dust can cause all sorts of defects in your rug and make it appear much older and worn than it really is.  Although a vacuum cleaner will remove surface dusts, a submersion bath for the rug has proven to be the most comprehensive method of dust removal.
Step 3 Hand Shampoo Cleaning Process
The third step in the cleaning process is a thorough shampooing of your rug using specially formulated, non-bleaching mixture. Mild, natural cleaning agents deep-clean your rug right down to the main portion to make certain that more than just the refuse has been treated.
Step 4 Rinse
Utilizing a very expensive wringer that most other facilities do not have, the rug is rinsed one final time to remove any cleaning agents and leftover soil/dirt.  The wringer has a 2nd stage that wrings out all of the water which reduces drying time significantly.  This is important because if the rug remains damp for too long, it will grow mildew.
Step 5 Drying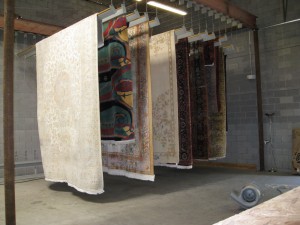 The final stage is the drying stage.  The rug is dried by hanging in our climate-controlled warehouse.  Many facilities dry rugs by hanging them out in the sun which severely damages the rug.  Because of the wringer that is used, the rugs have little-excess water and dry quickly in the drying room.